2019-2020 Chair:  Barb Rubio
* New updated information about the setting plan and filler blocks BlockPlanCh2
* Workshops (May 22, 23, 24) to work on setting design (see examples below) and filler blocks.  Sign up through Education.
Apr BOM:  The Road Most Traveled
 11TheRoadMostTraveled
Mar BOM:  Indian Star
  10INDIANSTAR
Feb BOM:  Four Queens
  9FourQueens
Jan BOM:  Crazy Anne 10″  (make two)
  8CRAZYANNE (rev Jan 7, 2020)
Nov BOM:  Dutchman Puzzle
 7DUTCHMANPUZZLE12
Oct BOM:  Mosaic
  6Mosaic3
  5AUTUMNTINTS
Aug BOM:  Antique Tile 12″
  4ANTIQUE TILE
July BOM:  Clay's Choice
 3CLAYSCHOICE
June BOM:  City Street
   2CITYSTREET
May BOM:  Squash Blossom
  1SquashBlossom
New BOM Club.
This block of the month club is a mystery quilt. You will keep your blocks and choose how to set them at the end of the year. There will be a total of 24 blocks.  In May 2020 we will have workshops to assemble the top.
Work at your own pace and bring your finished blocks to show at each meeting. For every block shown your name will be entered into the weekly drawing. For those that can't attend the meetings you can email Barb a picture and your name will be entered for the end of the year drawing.
The 24 blocks of various sizes fit into three settings that finish at 70×82. The three settings are a sampler quilt, the gypsy wife quilt and a modern ocean wave.
The 24 blocks will vary in size, the largest 18" and the smallest 8". Some months we will make up to four blocks. This club was created for you to play with fabric choices and to build your skills and learn how to dissect a block, looking at how the fabric choices make a design work.
It is recommended that you select or purchase enough fabric to complete the quilt. This is approximate yardage, not exact. Fabric Yardage: 1 dark fabric – 1/2 yard; 1 light fabric – 1/2 yard (2-3 one half yard light fabrics for the wave setting); 1 – 4 medium fabrics– total 3 yards. Background and sashing fabric 2 yards. You may want 2-4 extra yardage in case its cut wrong or want to make extra blocks or use it in borders or fill blocks. If using scraps, separate them into light, mediums and dark. Pre-cuts should be at least one fat quarter bundle and a jelly roll if you want extra fabric. See below for information on fabric choices.
2017-2019 BOM Co-Chairs:  Donna Kanealii and Joanne How 
BOM participation is a wonderful and easy way to learn a new technique or block design and help Na Lima Aloha (charity quilts).  Members make two blocks and bring them to the meeting.  One will be entered in the drawing and one will go to Na Lima Aloha .   You can make more than one pair of blocks.  Each pair qualifies for a ticket to win the blocks for the month.  If you only make one block, it will go to Na Lima Aloha and you will not be entered in the drawing.   Periodically the BOM Chair(s) will offer special BOM challenges for additional prizes.  Please use good quality quilting fabric (100% cotton).
BOM instructions are in the HQG Newsletter one month prior.
BEAUTIFUL HAWAII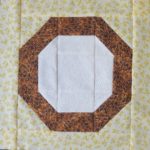 April 2019 Coconut
  March 2019 Taro
  Feb 2019 Torch Ginger
  Jan 2019 Pineapple
  Nov 2018  Delicious Papaya
  Oct 2018 Flowering Tree
  Sep 2018 Tropical Flower
  Aug 2018 Hawaiian Sun
  July 2018 Lei
HAWAII OCEAN
  May 2018 Whale's Tale
  Apr 2018 Hokulea
  Mar 2018 Lava
  Feb 2018 Limu
  Jan 2018 Sunrise Seashell
  Nov 2017 Tiny Bubbles
  Oct 2017 Scrappy Ahi
  Sep 2017 Tusnami
  Aug 2017 Honu BOM – 2017-08 August _1_
2016-2017 BOM Co-Chairs:  Doreen Drenner and Barbara Edney 
March 2017 BOM "Formal Footwear".  Contest for best embellishment.
Feb 2017 BOM "Rainbow Shadows"
Jan 2017 BOM "Hawaii Print Log Cabin"
  November 2016:  "Holiday Weath".  Contest for best embellishment.
  October 2016:  "ACT (Already Cut Triangles) of Madness"
 September 2016:  "Scrappy Roman Coin"
 August 2016:  "Simple Rail Fence"
 July 20016:  "Old Glory"